Green Fuels – Short-term returns vs the ecology
Russia's invasion of Ukraine had global economic consequences, none more so than the disruption of energy markets. Fears of a crisis in Europe and North America saw countries break their oil pledges and invest to extend the life of conventional energy infrastructure. At the World Economic Forum in Davos, the International Energy Association (IEA) threw out a number causing consternation. Fatih Birol, IEA executive director, told a panel1 discussing ways of Mastering New Energy Economics that every dollar invested in fossil fuels saw 1.5 dollars going into clean energy. That sounded like good news, but Fatih threw cold water on it by pointing out that a ratio of 1:9 was the only way a green shift would happen.
The reasons are not tough to fathom. For 100 years, consumption of fossil fuels kept pace with population and GDP growth. The two graphs below depict this journey where the orange line kept pace with the crimson one. It suggests that fuel consumption is outgrowing the GDP ever since 2013-14, with no reason to believe that the trend has softened this decade.
Lest we forget, fossil fuels have found use in transportation and power generation over the 20th century. Though wind and solar energy tried hard, the energy-dense oil and coal continue to be a perfect fit for power plants. As much as 64% of the global supply continues to come from these sources. In sum, energy transitions across the world have been favorable to more energy-dense forms, which means that a smaller volume of fuel can generate larger amounts of energy, and liquid and gaseous fuels have been easing transportation via pipelines.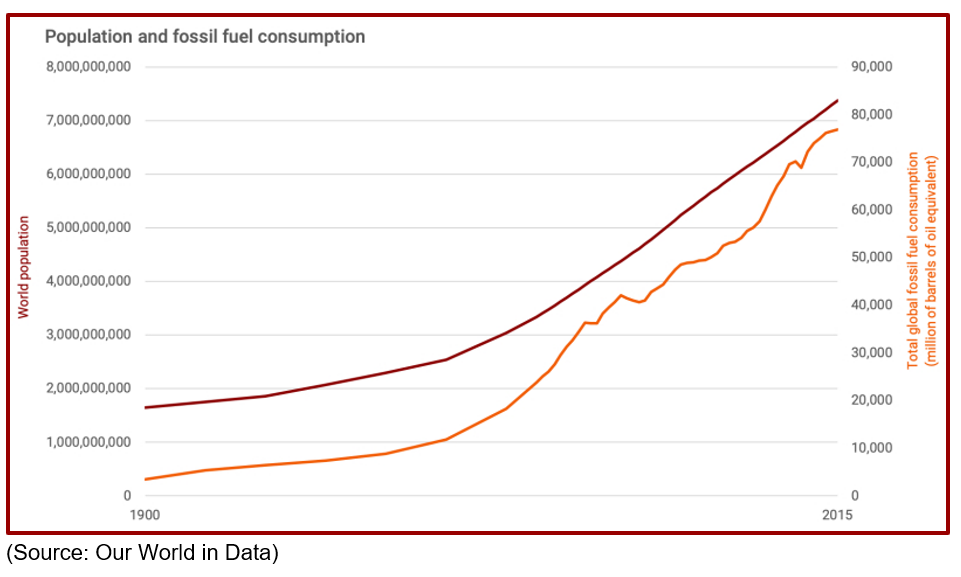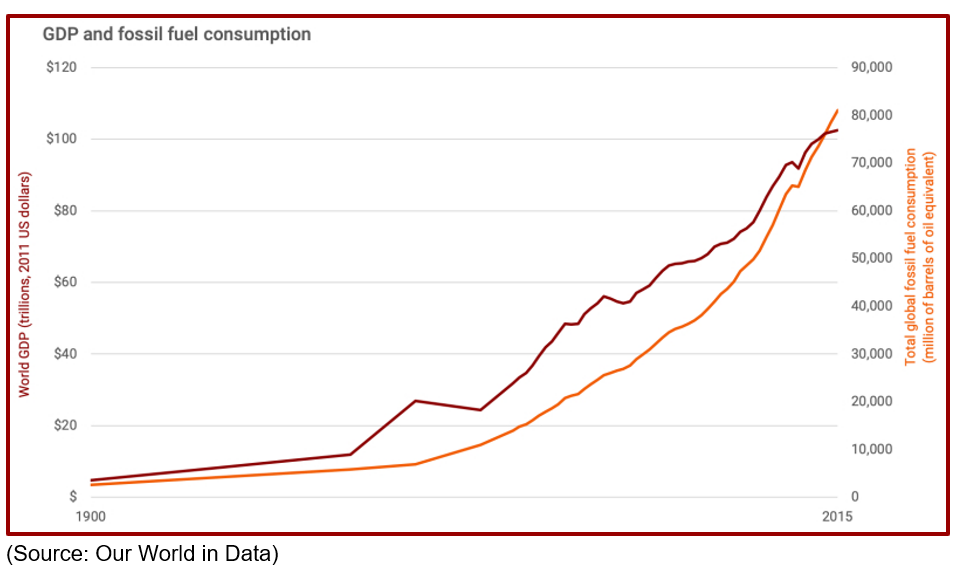 Given this backdrop, it should not come as a surprise that the world's largest banks and asset managers have retained their collective faith in the fossil fuel industry, in spite of routine pledges to go net zero by 2050. Paris-based not-for-profit organization Reclaim Finance made this revelation in its recent report2. However, what caught global attention is that many of these institutions were members of the Glasgow Financial Alliance for Net Zero—the global initiative launched by former Bank of England governor Mark Carney. When the initiative was announced during the Cop26 UN climate summit at Glasgow in 2021, it was tom-tomed by the UK as a major achievement that got 450 organizations from 45 countries, with over $130 trillion in assets to sign up for limiting climate change.
The Glasgow Alliance accepted that the world needs to cut carbon emissions by half over the next seven years (by 2030) and become net zero by 2050 in order to keep global warming under the key threshold of 1.5°C. However, several of its 550 members are pouring hundreds of billions into fossil fuel since they signed up. Fifty-six of the biggest banks in the group funded $270 billion capacity expansion needs of 102 fossil fuel companies via loans and underwriting arrangements, says the report. And, topping this list are Citigroup and Bank of America, which pumped in $31 billion and $23 billion, respectively.
What is causing this change of heart? There is a growing perception that net zero comes at the expense of affordability, says McKinsey, in a recent report3.  It argues that universal problems of supply chain and talent shortages only complicate the equation, raising the specter of price spikes in key inputs required for a net zero transition. Given the current state of economic uncertainty, companies are left with little option but to park funds in fossil fuels, given that they would appear as a safe haven amidst the growing geopolitical uncertainties. A recent report quoting energy cargo tracker Vortexa said that India's ever-growing oil imports from Russia coincides with the United States emerging as the largest buyer of refined oil from India.
All of this does not mean that investments are not happening in the clean energy business. The graph below is from the IEA's World Energy Investment report for 2022, and the latest data indicate an upswing over the past 12 months.
What takes the cake though in the current situation is that the UAE, which sits on an oil bounty and hosted the planet's largest oil-and-gas jamboree barely two months ago, seems to be the new articulator of green virtues. Instead of gloating about how the Persian Gulf helped avert a bigger energy shock, UAE's minister for industry Sultan Al Jaber highlighted the importance of greening the brownest of businesses. "ADNOC (the national oil company of the UAE) is making today's energy cleaner while investing in clean energies of tomorrow," he said.
And the irony is now complete.
End Notes