The Great Rotation? Will Value Outshine Growth after a Decade of Underperformance?
Global equities continue to weather a significant ongoing downturn since the beginning of 2022, with the S&P 500 declining by nearly 13.3%1 as of June 1– after having suffered its worst beginning since 19392 with a decline of more than 16%3 as of May 15. The rout has been far worse4 in the once booming "growth" stocks, and technology equities in particular. The tech-heavy Nasdaq 100 index is in bear market territory, down over 25% off its highs and having lost about 23%1 for the year to date.
Index performance for May5

Sector performance total return for May: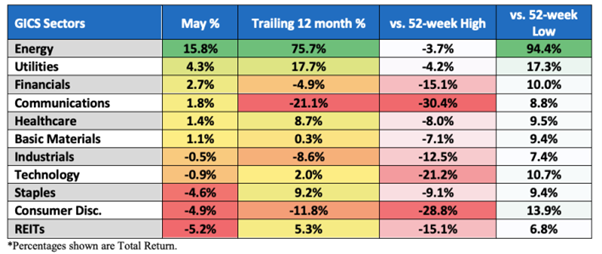 Tech sector repricing as rates rise and inflation soars
Investors in growth stocks have been bleeding in recent months amid a reversal of the decade-long boom in tech and other high-momentum stocks which enjoyed mindboggling levels of multiple expansions post the 2008 global financial crisis (GFC), amid a gush of liquidity thanks to historically low interest rates and quantitative easing (QE). During the 2009-2021 period, yield-starved investors were more than willing to pay through their noses for high-growth companies, as inflation remained low and ultra-accommodative central banks underpinned major asset classes to ensure stability of the financial system.
This dynamic meant innovative tech start-ups and other rapidly growing companies could attract historically high valuations despite key question marks surrounding their present cash flows and profitability.
However, the tide turned in late 2021, around November, with investors starting to question the sustainability of many of these business models, as the Federal Reserve and other central banks began signaling their intent to tighten monetary policy to cub persistently high inflation. This fundamental shift triggered a reset in the growth investing landscape, amid a sudden yet swift repricing of borrowing costs.
The prevailing inflationary environment is forcing investors to scout for businesses that demonstrate real earnings today, rather than exploring several esoteric metrics through which they had been analyzing growth companies – such as unit economics, net earnings excluding stock compensation costs and total addressable market. Many asset allocators were now aggressively looking to exit stocks with high rates of growth but hardly any meaningful earnings, and rotate into companies offering relatively stable cash flows over the near to medium term.
Comeback of Value
As Growth remained the place to go to in the post-GFC era, it significantly outperformed Value investing over the last decade. However, the past few quarters have seen a Value renaissance, with the investing tenet pioneered by Benjamin Graham outshining Growth so far in 2022. The shift to value6 got under way toward the end of 2021, as the global economy started recovering from COVID-induced lockdowns. As compared to a 25% plunge in MSCI's global growth index, the MSCI World value index has declined by nearly 7%7 in 2022 on a total return basis. This robust relative performance means Value has delivered returns of almost 30% so far this year, Bloomberg data shows.
Regime change?
Will Value's current outperformance be sustained? That's the question exercising the minds of many portfolio investors today. A useful gauge to answering that question is to look at the so-called value factor, which has increased dramatically this year, thereby reinforcing some market participants' conviction that this rotation represents a structural shift.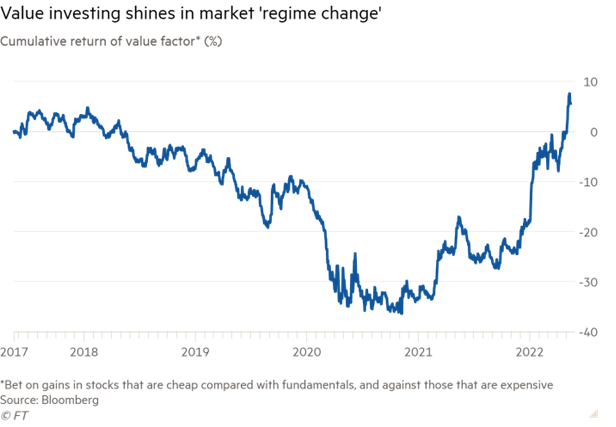 Value spread
Another indicator to answer the above question is to examine the so-called "value spread", the dispersion between the pricing of growth and value stocks, which remains almost nearly as stretched7 compared with historic norms as it was during the peak of the 2000 dotcom bubble.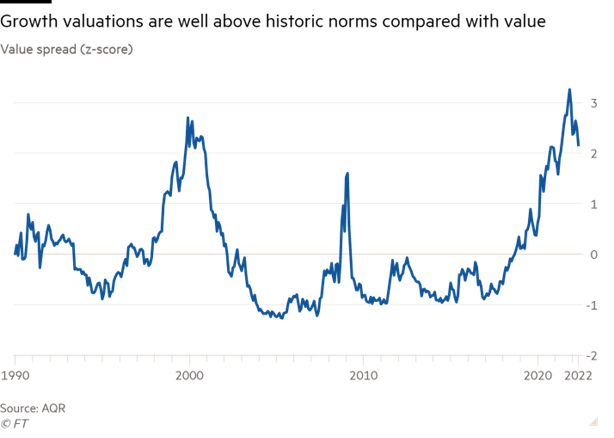 This massive mispricing suggests that there is still a fair amount of room for Value to outperform Growth in the times ahead.
End Notes