Thematic investing: Will the boom persist in a potentially higher-rates world?
Thematic funds go back a long way. In 1948, Chicago-based Television Shares Management launched the first thematic fund, The Television Fund, in a bid to capitalize on the then boom in demand for TV sets.
The thematic concept again took wings during the 1960s and 1970s when the "Nifty Fifty" – nearly 50 large-cap stocks on the New York Stock Exchange – propelled the bull market of the early 1970s, only to crash and underperform massively in the ensuing decade.
Following a brief fling with Internet-focused funds in the 1990s, thematic investing took off in the 2000s, with exchange-traded funds (ETFs) gaining widespread acceptance amid a growing shift from active to passive asset management.
Today, there are almost 200 "themes" across 1,952 such funds, relating to structural or macroeconomic trends above the conventional business cycle, that investors can choose from1 – including artificial intelligence, robotics, clean energy, robotics, legalized cannabis, cloud computing, 3D printing, genomics and fintech.
Decade-long boom
The past decade has been a home run for thematic funds, which have tripled2 their share of total assets under management (AuM) at all equity funds worldwide, to 2.7%, as per Morningstar. The combined asset base of equity-oriented thematic funds has soared to over $800bn during this period, as compared to a mere $71bn at the onset of 2011 – equivalent to 0.8% of equity fund AuM then.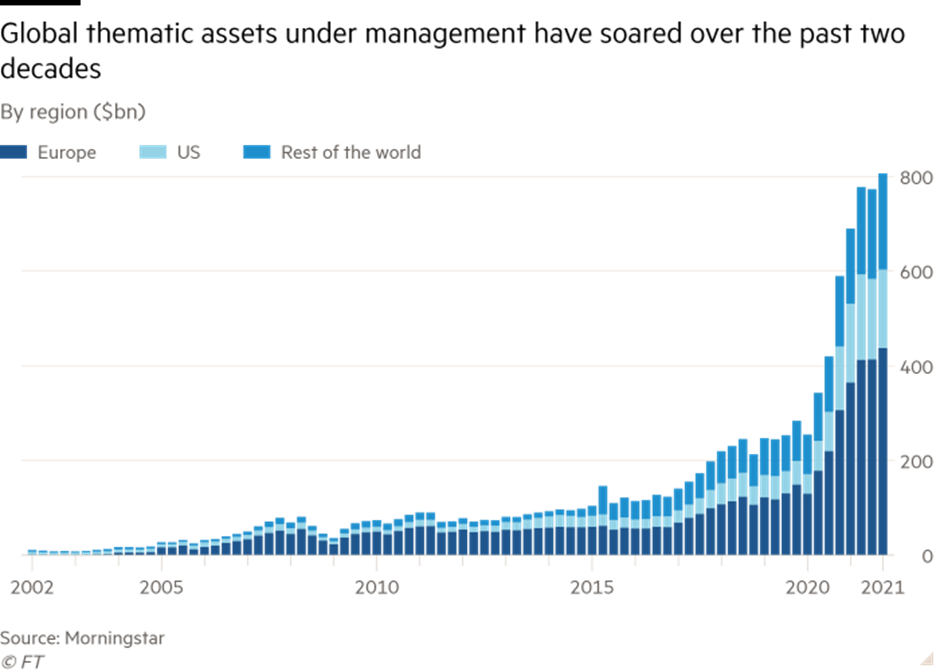 This structural growth story is also reflected in the number of new players joining the scene. Last year saw a record 589 thematic launches2, more than double the previous all-time high of 271 in 2020, Morningstar figures reveal.
In particular, since the beginning of the COVID pandemic in early 2020, thematic funds have attracted large-scale investor interest, which has boosted3 their aggregate AuM nearly threefold during the trailing two years to the end of 2021.
Growth bias
Growth narratives – based on emerging themes with disproportionate upside potential, such as disruptive technologies driving digital transformation across industries – fueled the thematic boom in the last decade, as interest rates remained at historically low levels.
In fact, an overwhelming 72% of such funds had a growth bias, while a mere 6% had a value slant, according to the Morningstar Global Thematic Funds Landscape 2022 report4.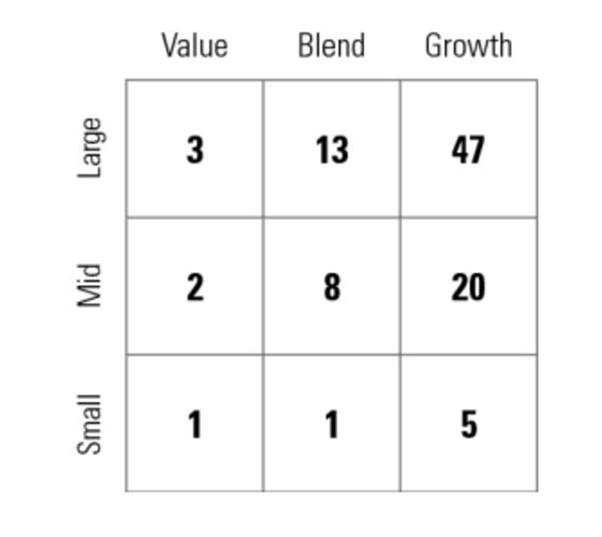 Style of global thematic funds in % of funds (Source: Morningstar)
Volatility coming back as rates go higher
A significant turn in the cycle could be under way, however, as monetary policy tightens in the developed world amid raging inflation. With central banks beginning to raise interest rates, and ending quantitative easing, in a bid to keep price rise under check, thematic funds have started showing signs of vulnerability.
Several prominent thematic ETFs of the recent bull market have amassed large losses5 recently, amid wild price swings and short-term trading. All ETFs tracking the four leading themes that garnered the highest inflows in 2020 and 2021 have witnessed a price decline of at least 25% during the 12 months ended March, as opposed to a double-digit positive return for the MSCI World Index.
Conclusion
The continuing volatility in global financial markets, as seen during the first four months of 2022, has impacted trend-following investment vehicles, prompting several investors to question if these funds will be able to navigate an evolving market environment of higher interest rates and lesser liquidity.
Going by history, the going could well be tough. Over the past 15 years, more than 75% of thematic funds worldwide shut down, with a mere 10% surviving and outperforming the Morningstar Global Markets Index, a Morningstar study6 points out. The percentage of such vehicles beating their respective benchmarks over a five-year time frame comes in at a paltry 39%2, the study adds.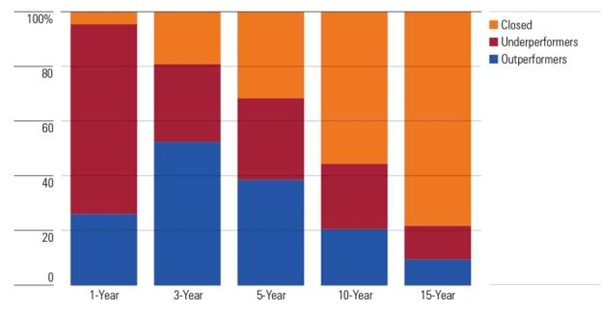 Global thematic fund survival and success rate (Source: Morningstar)
While financial markets beginning to return to "normal" mode following over a decade of ultra-accommodative monetary policy that lifted all boats in a rising tide, thematic funds, spanning biases, styles and narratives, would have to demonstrate real resilience to survive, and thrive. It won't be easy, for sure, but strong conviction plays, with solid bottoms-up portfolio construction, could still stand out, and deliver risk-adjusted, superior returns for their clients.
End Notes