Upside of Private Equity Secondaries in Down-cycle Environment
As the asset market matured in the last decade, it increased the demand for secondaries and attracted an increasing number of buyers and investors. The secondary market has grown by more than five times since 2012, reaching a whopping $130bn in 2021 and $58bn in the first half of this year (Aguerre, 20221). Although secondaries funds fell slightly in the first quarter, relative to the last three months of 2021, they outperformed overall private capital returns by 15.1%, according to the 2022 Global Fund Performance Report2. This growth can be attributed to the lack of attractive exit options. Specifically, high volatility for technology firms in the public markets has significantly reduced the appetite for VC-backed exits in Europe.
Supply for Secondaries Transactions
This year saw approximately 463 deals worth an aggregate of about $16.96 million, as per a report3. The statistics indicate a decline of 61.4% and 87.6% in deal count and total deal value, respectively, from the 2021 levels. This cold winter on the exit front has heated start-up investors and limited partners (LPs) to capitalize on some assets. However, LPs find themselves over-allocated to private market investments because of the denominator effect. Hence, both LPs and general partners (GPs) have been eyeing the secondaries market to offload some assets. This scenario has presented Europe's secondaries with an opportunity to unlock PE liquidity in a recessionary environment.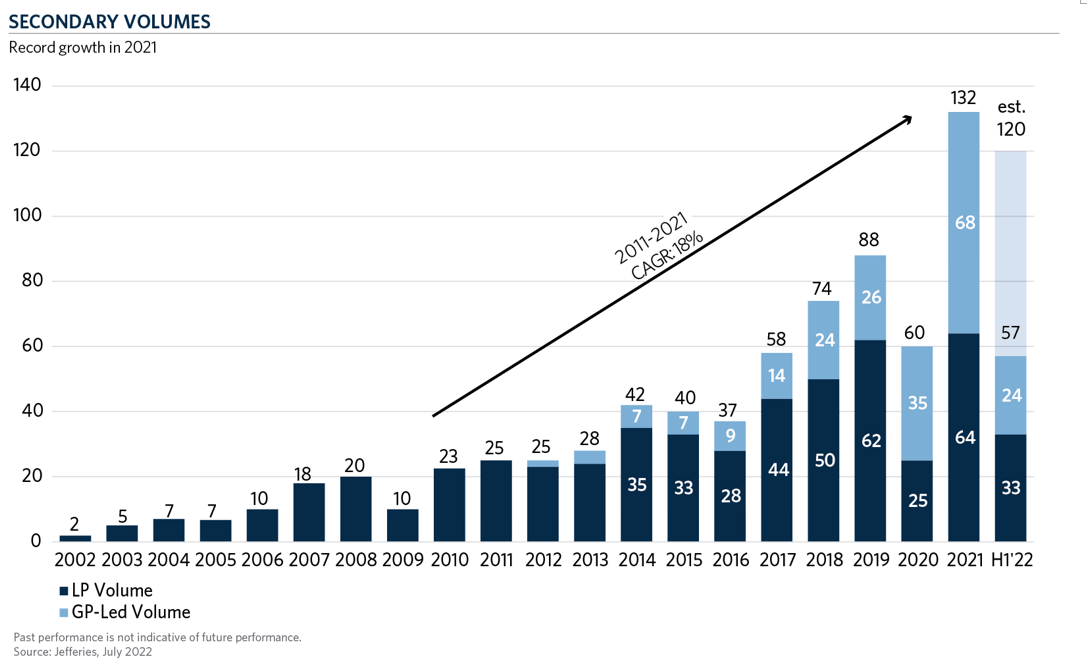 The LP- and GP-led transactions have helped secondaries to achieve a higher IRR than that of other private capital strategies. While data for the entire Q2 2022 returns for the private capital fund universe are still not available, preliminary data show that, as of March 31, secondaries clocked an average rolling one-year IRR4 of 42.1%, which is the highest of all private capital strategies. On the GP side, fund managers are using continuation vehicles to get distributions to LPs, and thereby enabling their investors to have the funds to participate in future deals. Within this GP-segment, single-asset transactions are gaining traction because of their contribution toward alleviating broader portfolio risk. They are also becoming the preferred vehicle because of their ability to capture the potential value sacrificed because of funding constraints or a premature exit driven by extraneous forces. On the LP side, an annual investor survey5 showed that more than 59% of LP respondents preferred secondaries, over other conventional strategies like growth and venture capital, to deploy capital in the current market environment. Under 45% of the LPs5 expected net returns for secondaries' funds between 11% and 15%, with 34% predicting a return of 16% and above. These data show that the investors are eyeing the secondaries market for liquidity solutions. Specifically, the European secondaries have been attracting demand through diversification across managers, geographies, and strategies; J-Curve mitigation (shorter duration and faster capital returns); cashflows; and an attractive risk-return profile. Secondaries have also been offering flexibility to LPs planning to liquidate or rebalance their private market portfolios. Buyers of secondaries may also benefit from potentially discounted access to private equity funds and better transparency into and more information about the underlying portfolio companies.
Exploiting Bullish Trends
As per a report by PJT Partners7, the market supply looks promising for secondaries' with forecasted live transactions and deals worth $150 billion in the near term. While the annual deal volume is expected to decline by15% this year, reaching between $105 billion and $115 billion, the demand and market momentum are expected to be consistent in the next 12–24 months versus the next three months. The deal volume will continue to see strength if firms with secondaries funds close their vehicles next year and if there is more consensus on private market valuations. Moreover, the limited capital deployment in the secondaries market, as opposed to burgeoning opportunities, has driven buyers to pursue larger, syndicated opportunities. They are faced with the dilemma of choosing between the syndicated and sole buyer opportunities in the mid- and lower markets. The secondaries investors can exploit the opportunities for larger, GP-led transactions by adopting a targeted structured approach and including secured debt or preferred equity elements.
Riding the Recession
The secondaries offer attractive portfolio benefits to high net investors in this downturn. Concerning GP-led secondaries, they should develop networks that bolster high-quality opportunities. They should also conduct comprehensive due diligence8 in analysing financial statements, understanding markets, and evaluating the quality of earnings reports. Since single-asset transactions entail complex negotiations and diverse stakeholders, investors should seek expertise in single-asset deal to achieve success in the single asset space. The LPs must engage in GP-led secondary transactions to sell their non-core assets, assess portfolio exposures, and strengthen relationship with GPs. This downturn-reset will drive secondary fund managers to purchase positions at higher discounts. Managers purchasing non-proprietary assets or those providing an information advantage will successfully navigate market cycles.
End Notes